Description
Advanced Digital HID Kit with Super Slim Ballasts with AC Technology
3X brightness over stock halogen bulbs
100% Digital AC Technology
1/3 the size of our normal ballast kit – Easier to install
Components from Germany
Digital Internal Components  (DIC)

1 Year True Warranty on all parts
Includes 2 slim ballasts, 2 bulbs, wiring, mounting plates, instructions and zip ties.
In addition, our kits use AC technology, read why this is important!
Our Digital HID Kits are made with high quality controls and high-end electrical parts such as : Siemens, Ormron, Panasonic of Germany. Some other manufactures sell HID Kits for a very low prices. The Main reason is due to the fact they uses very low-end electrical parts, which will only last 3~5 month, and then burn out. Also possibilities their kits may cause damage to your vehicle. Beware of online stores offering lifetime warranty. Most of these companies are from China and shut down their business after a few months, never to be found again.
Ballast Measurement: 3.0 inches x 2.5 inches x 0.5 inches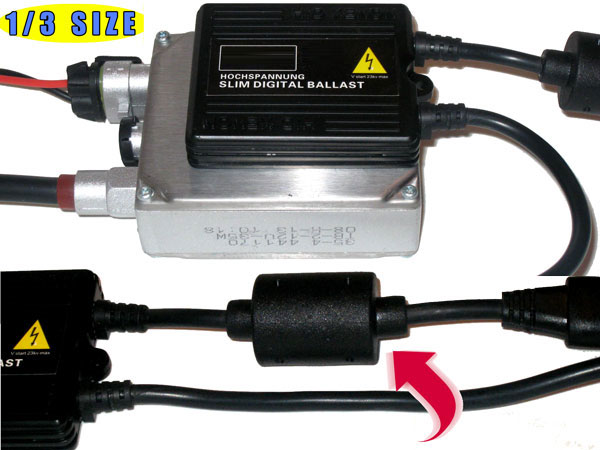 CERTIFICATION: E-MARK AND ISO9001

 POWER CONSUMPTION: 35 WATTS

 VOLTAGE: 85 +/- 17V

 LUMINOUS FLUX: 3200

 BALLAST CONSTRUCTION: SUPER SLIM DIGITAL

 SERVICE LIFE: APPROXIMATLY 3000 HOURS

 INPUT VOLTAGE: 9V-16V

 WORKING CURRENT(Steady state): 3.5 A nom

 IGNITION VOLTAGE: 24kV Peak Max, 18kV Peak Min

 LAMP FREQUENCY: 450 Hz
Available in color temperatures:3000K (Yellow), 5000K, 6000K, 8000K, 10000K, 12000K (Dark Blue), 30000K (Purple)

FAQ:
Will this Digital kit work on my vehicle?Yes! Please specify below your vehicle information and we guarantee to send you a kit for your vehicles factory headlights or fog lights of your choosing! Simple plug and play installation!
Do these lights have any warranty?Yes! We warranty all our Digital HID Kits by a 1 year warranty.
This kit includes:2 Ballasts, 2 Bulbs, Brackets, Wiring for your car and basic instructions.
Will this kit fit my car if I have factory xenon:No, this is only for vehicles that did not come with xenon from factory. The vehicles with factory xenon use totally different types of bulbs and ballasts. Call us!
Will my vehicle need additional parts?Usually no, but in some cases, some vehicles will need HID bulb adapters, while others may need a special wiring harness or resistor module to prevent bulb out messages.
Is this a CANBUS KIT (Error Free)– Even though it is not a CANBUS ballast type kit, it should not have problems on 95% of vehicles. There will be some vehicles such as European that may need other accessories to make the hid kit work. If you prefer a True CANBUS kit which is more robust, see our CANBUS Digital Slim Kit.
What about the high beam?This kit will convert only your low beam to HID. Your high beam will stay the same if your vehicle has additional bulbs for high beam, or your high beams will work similarly if equipped with H4, H13,9004, 9007 type bulbs (1 bulb per side). See the image here for explanation.
Why should I buy from your company?We pride ourselves on supplying you the brightest, easiest to install and most reliable HID kit on the market. Through research and development we offer you products we use in our own vehicles, true tested! We offer email and phone technical support by people who install these kits for a living, not desk workers. Each kit is packaged carefully to ensure it arrives in perfect condition. Buy with confidence from us; we are the true HID experts.